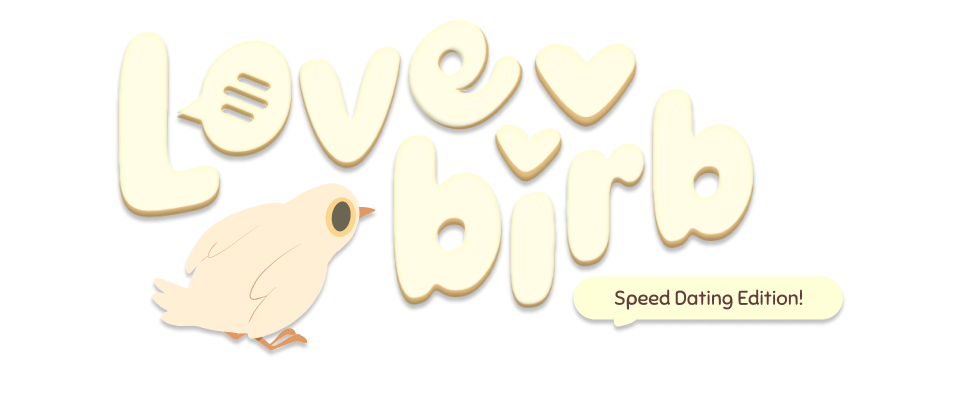 Lovebirb
Lovebirb is a rhythm-based dating game about finding love one date at a time. Answer your date's questions by showing them your best moves! 💃

Play as a heartbroken bird, ready to dip back in the dating scene: impress your dates by saying all the right words to the rhythm of the music. 🎶🐤
Sometimes you'll succeed, sometimes you won't. Sometimes…it gets a little awkward (for both of you).
But remember: your goal is to find your one true love!
Keep swiping! 😜
This demo contains the first date of the first 4 birds of our game. Everything is still a work in progress but if you're interested in hearing about updates, follow us at @AnonPenguStudio on Twitter!
We'd also love to hear about your thoughts on the demo through our Feedback Form 💖

Programming & Animation
Tup Luisking
UI/UX & Game Design
Mik Montaño
Val Cobankiat
Narrative Design
JJ Zarate
2D Art
Mik Montaño
Controls
Navigate/Rhythm Notes - WASD or Arrow Keys
Back - Escape or Backspace
Confirm - Enter or Spacebar
Download
Click download now to get access to the following files:
Lovebirb - Speed Dating Edition!.zip
55 MB
Comments
Log in with itch.io to leave a comment.
Say... I think I recognise some of these sounds 😜 Great game so far, can't wait for the final release!

why is taylor so hard to please smh
Taylor is worth it we swear 😔🙏

I really hope this goes in really cute and maybe more difficult places hehe. This is just an awesome idea in general ^^
soooooo lovely!!!i like the art and i expect more about it:)
thank you so much @ZENOBIAAA 💖 we will definitely be updating the art for the final version 🙌